Pediatric Chiropractic Care at EDC Family Chiropractic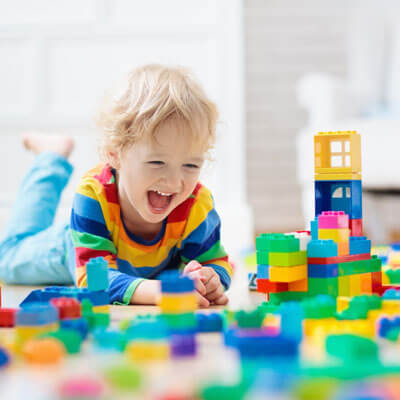 At our practice, we love welcoming patients of all walks of life into our care-and that's no different when it comes to your little ones.
Whether your kids are newborns or older children, we'd love to see them in the practice for a spinal checkup to ensure their nervous system is functioning exactly as it was designed.
After all, it's much better to correct any spinal trauma causing disturbances now instead of later in life!
Adjustments for Kids-What's it Like?
We're proud to offer focused and gentle adjustments for children of all ages. The process begins with a quick scan of your child's nervous system, which will show us areas of stress on their body. The scan is entirely comfortable, safe and pain-free-your child will likely not even know anything is taking place.
Once complete, we'll gladly show you any issues found from the scan and go over what type of care plan could help them. For young children, we typically use the Logan Basic technique, which involves very light pressure applied to the spine-don't worry, you will not be hearing any cracking or popping noises.
For older children, we may employ the Activator technique, a gentle, computer-aided tool that allows us to gently measure and 'tap' the spine back into proper alignment. The diversified technique is usually ideal for teens.
Some benefits of care may include:
Improved digestion
Better sleep
Less fussiness
Heightened immunity
Improved breast feeding in babies
Better overall growth and function
Regardless of what technique is used for your child, we promise to make them feel welcome, safe and like family.
Frequently Asked Questions
Will chiropractic be painful for my child?
Absolutely not. We use the gentlest techniques possible to ensure that your child never experiences pain. Adjustments shouldn't be painful, and for children, we're happy to show mom or dad exactly how much pressure is used on their spine.
Will my child know they're being adjusted?
Some do, while others don't. Older children tend to understand the adjustment process better. Little kids and infants sometimes sleep through their adjustment or rest on mom or dad while we complete it. We aim for the process to be stress free and as comfortable as possible for everyone.
If your child is nervous, our goal is to build trust with them so they enjoy returning for visits. We will gladly allow your child to rest comfortably on mom or dad while we carry out the adjustments. This can often help a scared child feel more relaxed and ease them into the adjustment process. Soon enough, they'll be comfortable with us and enjoy visiting our practice-we have a lot of young patients who can't wait to return!
How often will I need to bring my kids in?
That's dependent on the problems your child is experiencing. For some kids, visiting us weekly or monthly is adequate for keeping their nervous system in balance. If your child has experienced any nervous system trauma or injuries, we may recommend more frequent care in the beginning, followed by maintenance visits. We'll be sure to let you know what our recommendations are to keep your child healthy and growing strong.
Can I book appointments for the entire family?
Yes! If you're under our care, feel free to book back-to-back visits for you and any family members you'd like to bring. Chiropractic can absolutely be a family affair-and we love welcoming your entire brood into our care.
Schedule Your Visit
We'd love to welcome your little ones into our care. Whether you've got a newborn or older child, we're here for everyone. Contact us today to learn more about how natural, gentle and focused chiropractic care can help them express their true health potential.
Get started today!
CONTACT US »

Pediatric Chiropractor Maryville Alcoa and Louisville TN | (865) 983-3333